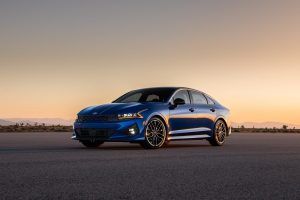 2021 Kia K5 GT
De-badge the 2021 Kia K5 GT and you would think this is a premium sports sedan from Germany or maybe Japan. Guess again, it's Korean and its beautiful.
Kia is on a roll, they are putting out great products that look fresh and modern, offering excellent value and the K5 GT is no exception. The overall look is nicely done with touches of unique design elements, such as the elegant front grille painted in what Kia calls "Hyper Silver" an elegant mesh design that suits the GT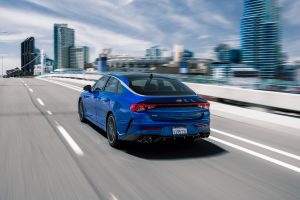 perfectly. The side profile is sleek and modern, while the rear is well finished, with contemporary designed integrated quad exhaust tips that mean business and look oh, so premium.
Inside you are greeted with all the typical accoutrements of a sports sedan. There is the driver's oriented center dash, leather sports seats, prominent paddle shifters and a thick rimmed steering wheel. The interior is done in a simple, modern design with well thought of switchgear in addition to easy to understand and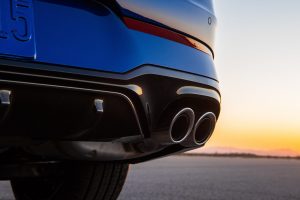 use infotainment system. The fit and finish feels typical Korean which is to say it's not bad, however, I have started to notice an improvement in the tactile and precision of the knobs that was missing in previous generations of Kias. Rear seats are comfortable for two, cozy for three. Trunk is large and well appointed, with a low, over the bumper reach.
With a powerful 2.5 liter turbo engine unleashing 290 HP and 311 Lbs/Ft of torque and the new, dual clutch transmission makes the K5 GT a surprisingly playful car.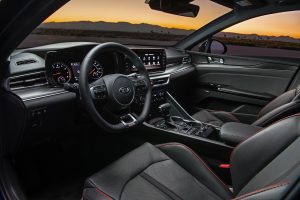 We tended to overpower the tires and got wheel spin fairly easily when we wanted to be aggressive with the throttle. I really wish this GT was rear wheel drive, well I guess that's why Kia offers the Stinger performance sedan. On the road, the K5 GT is powerful, smooth and comfortable with good throttle response and paddle shifters that make the car feel dynamic and involving with every shift. Steering is quicker than the standard K5 but as with most electric steering systems, at times a bit numb yet easy to find feedback when cornering.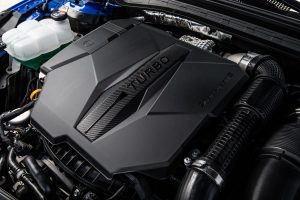 Brakes are also larger than the standard model and are direct and powerful, we didn't notice any brake fade, even after several hard-braking stops. The K5 GT feels like a BMW 3 Series but a lot more fun to drive, I do wish it had AWD though.
Looking for a fresh, fun to drive, well designed sports sedan that won't break the bank? The 2021 Kia K5 GT should be on your short list of candidates.
Comparables are tough to pin down: Hyundai Sonata N-Line, Mazda 6, Toyota Camry TRD and if Honda made an Accord Si
The Essentials:
MSRP: $31,585.00                                                             MSRP (As Tested): $35,585.00
Fuel Economy (Observed): 24.5 MPG
Engine: I-4, 2.5 liter turbo, 290 HP, 311 Lb/Ft Torque
Popular Options: GT1 Package: $4,000.00
Please visit: www.kia.com
*Photos furnished by Kia