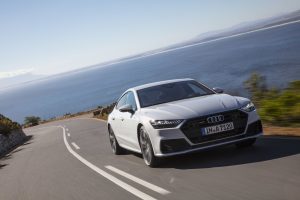 It was a case of love at first sight.
No sooner had I stepped out my front door to see the white Audi A7 parked in my driveway than I knew this was going to be a great week. It was stunning enough just sitting there motionless — a sedan that looks like a coupe but really is a hatchback.
And it only got better as the days went on.
Its driving performance was exhilarating, powerful yet refined and easy to manage. Its road manners are impeccable, but not stuffy. You don't have to wrestle with the steering or treat the accelerator pedal gently lest the car get away from under you.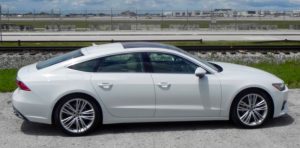 Steering is precise. There's just enough of an exhaust note to let you know it's there — sharp but not ear-splitting to those in the next county.
And bumps in the road? What bumps in the road?
All in all, I felt like the guy who married a super model and then found out she could cook, too! And owned a liquor store as well!
That's the Audi A7 quattro, all new for 2019 as it moves into its second generation.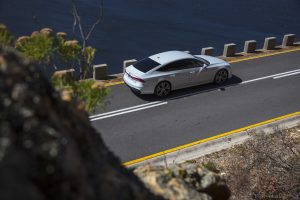 Among the items new for this year is a new turbocharged, 3.0-liter V6 engine that boasts an increase of 44 pound-foot of torque over its supercharged V6 predecessor. Mated with a 7-speed, double-clutch transmission featuring auto, comfort, dynamic, and individual modes, the engine delivers 335 horsepower and 369 pound-feet of torque at a range of 1370 and 4500 rpm, moving it from zero to 60 mph in 5.2 seconds.
That's the official number from Audi. Edmunds.com clocked it at 4.7 seconds.
Also a first for 2019 is Mild Hybrid Electric technology system that helps improve drivetrain efficiency, resulting in EPA mileage figures of 22 miles-per-gallon city, 29 highway, and 25 combined. Even with all-wheel drive it's among the best in the large luxury class.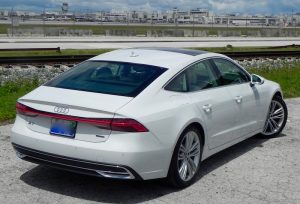 One big change that is sure to catch your attention is Audi's new touch-response system featuring dual touchscreens. The larger one at the top of the centerstack is used for adjustments for audio, navigation and car settings. The smaller one below is for climate control functions such as blower speed, temperature, etc.
That eliminates the need to switch the screen from say, navigation or audio display to re-adjust the A/C as is necessary on single-screen setups.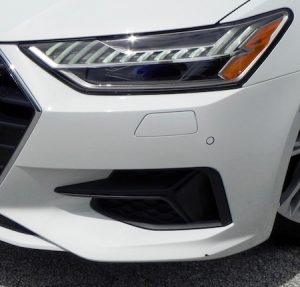 The touchscreens replace the rotary dial system used to operate the MMI system in the past. You can still use voice commands to operate many functions, which is good because using your finger to navigate the various options is a pain.
Standard equipment includes such niceties as heated leather seats, LED headlights, power sunroof, and power liftgate (almost a necessity considering its heft), and Bluetooth communications.
The Prestige model adds a package of features that adds $8,300 to the base MSRP of $68,000 and includes the MMI system with navigation and a 10.1-inch screen (replacing the 8.8-inch in the base base Premium model) along with Audi's virtual cockpit, premium Bang & Olufsen sound system, a top-view camera system, and 4-zone climate control. Driver and front passenger not only have their own temperature controls but blower as well, and the rear occupants have their own controls.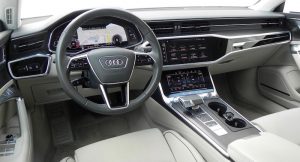 My test vehicle also included options like an individual contour seating package, a Driver's Assistance Package, and 20-inch wheels (replacing the standard 19s) that ran the total to $85,240, including the $995 destination and delivery charge.
What I liked about the 2019 Audi A7 quattro: The "virtual cockpit" that puts information like the adjustable map for navigation right in front of the driver's eyes is the best system yet. There are tons of storage space in the back (part of the DNA of a hatchback) but when the deck lid is closed, the A7's interior has the appearance of a sedan with the cargo area (24.9 cubic feet) completely closed off.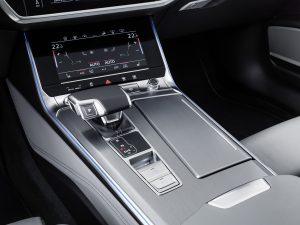 What I didn't like about the 2019 Audi A7 quattro: Audi has changed its infotainment functions to operate by tapping on one of two touchscreens rather than spinning a dial on the console like its Teutonic mates BMW and Mercedes-Benz, and results are mixed. It's easy enough to adjust climate control settings on the lower screen, but tuning the radio or adjusting the audio volume or making other adjustments by touching the right spot on the upper screen can be distracting. Rear headroom might be compromised for taller occupants because of the slopping roofline that gives the A7 its coupe-like profile.
Would I buy the 2019 Audi A7 quattro? Yes. I didn't like it, but I don't see the touchscreen as a complete turnoff. There's just too much going for the A7 to let that get in the way.
*Photos furnished by Audi and the author