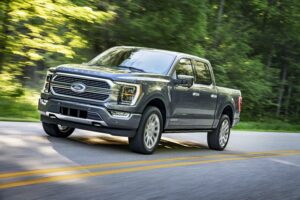 For the last 44 years one constant has remained in the pickup market and that has been the status of Ford's F-Series as America's best-selling truck.
Even with sales off 12.5 percent for the fourth quarter and the popular F-150 down 32.7 percent on short inventory in anticipation of the redesign for 2021, a total of 787,422 F-Series trucks were sold in COVID-corrupted 2020.
In the first quarter of this year, however, F-Series sales jumped 9.2 percent over the first quarter of 2020 as the 2021 version of the popular F-150 hit showrooms in December after getting not only a design upgrade but also a hybrid drivetrain, a first in the light duty pickup segment.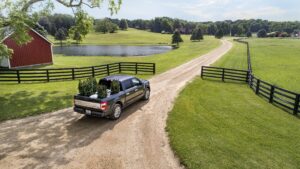 The Powerboost (as Ford calls it) hybrid setup features a 3.6-liter V6 gas engine and a 47 horsepower electric motor mated with a 10-speed automatic transmission. The combination boosts horsepower to 430 and torque to 570 pound-feet, a jump of 30 hp and 70 lb.-ft. over the turbocharged 3.5-liter Ecoboost V6, the F-150's next most powerful engine with 400 hp and 500 lb.-ft.
The hybrid is a big jump in horsepower over the diesel's 250 hp and even bigger increase over the diesel's torque number (440 lb.-ft.).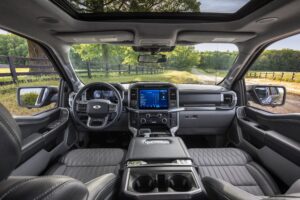 Fuel economy in 4X4 models with the Powerboost setup, such as the vehicle this review is based on, comes in at 24 miles-per-gallon city, highway, and combined, which doesn't seem like much for a hybrid but represents a 20 percent jump over that for the 3.5-liter Ecoboost V6 (20 mpg combined).
With a 30.6 gallon fuel tank, fuel range for the Powerboost hybrid F-150 is just over 730 miles while towing capacity is up to 12,700 pounds depending on the wheelbase.
The battery pack for the Powerboost hybrid is conveniently placed under the body, which means it doesn't intrude on space for either passengers or cargo. If it weren't for the "Powerboost" markings on the front doors, you probably would never suspect it was a hybrid. Even then, you'd have to know what "Powerboost" means.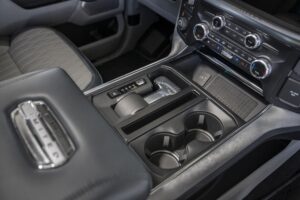 My vehicle for the week was the Ford F-150 Platinum edition, which put it at the high end of the pricing portfolio.
Standard equipment included the Supercrew cab configuration, LED projector headlamps, LED lighting for the box and taillights, power sliding rear window, leather-wrapped steering wheel, power adjustable tilt and telescoping steering column, genuine wood accents, adjustable pedals with memory, heated and ventilated front seats, adaptive cruise control, and a slew of infotainment features, including voice activated navigation.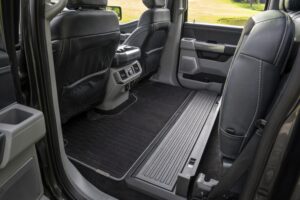 Safety features like evasive steering assist, lane-keeping assist, post-collision braking, and reverse sensing and rear-vew camera also are covered by the base MSRP of $62,535.
The hybrid drivetrain adds $2,500, a package that includes a power rear liftgate and 360-degree camera package adds $2,685, and other extras like an interior work surface and spray-on Toughbed bedliner spray ran the total to $72,285.
That's getting into real high cotton when it comes to a pickup, but the hybrid drivetrain is offered on some other F-150 models that are much less expensive.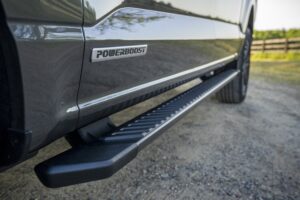 Ford also has announced it will reveal its all-electric F-150 Lightning model at 9:30 a.m ET on May 19 on more than 30 platforms, including Ford Facebook and YouTube channels.
An earlier YouTube clip (July 2019) shows the prototype Lightning towing 10 freight cars weighing 1 million pounds, though a later clip has a guy kind of debunking the whole thing by saying essentially it was not really that big a deal.
If you want entertained, watch the original video. If you want your head overpacked with mind-numbing numbers and physics theories, check out the second.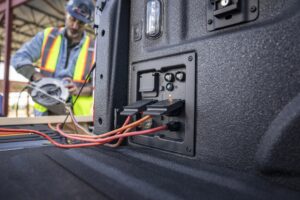 What I liked about the 2021 Ford F-150 Hybrid 4X4: It's a comfortable ride, and the infotainment features are very user friendly. The power deployed running boards are a big help getting in and out of the cabin.
What I didn't like about the 2021 Ford F-150 Hybrid 4X4: The full Powerboost hybrid drivetrain adds a $2,500 cost over other Supercrew models so you'll have to do the math to see if the fuel benefits are going to pay off for you in a reasonable time.
Would I buy the 2021 Ford F-150 Hybrid 4X4? I'm not really into full-size pickups because of the difficulties that arise when in many cramped parking lots and other spaces, but if a pickup floats your boat, this one is very much worth a look. You will hardly notice the difference in driving experience with the hybrid, and you still get all the niceties that models with the standard powertrain get while enjoying the extra fuel mileage as a bonus.
*Photos furnished by Ford