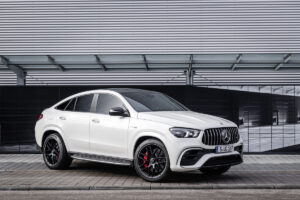 When it comes to distinguishing a car as a sedan or a coupe, most people simply count the doors. Four doors, it's a sedan. Two it's a coupe.
But it wasn't always that way. You go back far enough in history and you likely can find references to a "two-door sedan" and a "four-door coupe," especially when watching old crime movies — and by that I mean from the 1940s and '50s or earlier, not the Clint Eastwood era.
More often that not, the movies back then used generic terms rather than specific brand names when it came to broadcasting BOLOs (Be Om the Look Out) for police to run down suspects.
But probably since the 1960s it has become the custom to identify a passenger car with two doors as a "coupe" and with four as a "sedan." Coupes also were slightly smaller and sportier looking than your typical family sedan, but the two doors made things simple, clear, clean cut. No need to eye-ball interior volume or check for missing B-pillars.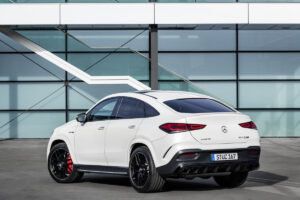 At least it was easy until the early 2000s when Mercedes-Benz muddied the waters by marking its new CLS Class as a "four-door" coupe.
And thus even though such automotive sources as Edmunds.com declared "the four-door coupe category doesn't really exist," that has not stopped Mercedes.
While it goes with two doors for its E Class and C Class coupes, the German automaker still refers to the CLS and CLA Class models as "coupes" despite their four doors. But it doesn't stop there.
After a year's production hiatus, the company has now brought back the GLE Coupe and given it — need you risk a guess here? — four doors, which to many is something that doesn't exit. It kind of makes you wonder how the Germans feel about unicorns.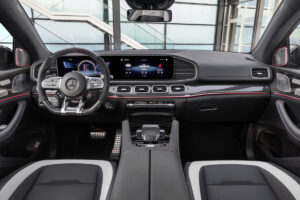 The GLE Coupe s available in two forms, both getting AMG upgrades. The 2021 AMG GLE 63 S Coupe, which this review is based on, comes with a biturbo 4.0-liter V8 engine that revs up 603 horsepower and 627 pound-feet of torque. The 6-cylinder version, the AMG GLE 53 S, is rated at 429 hp and 384 lb.ft. — a relative lightweight.
The V8's power figures don't do much for gas mileage (15 miles-per-gallon, 19 highway, and 16 combined, according to the government) but they will scoot you from zero-to-60 mph in 3.7 seconds, according to Mercedes clockers.
In addition to the extra doors, the 2021 AMG GLE 63 S also has other features that distinguish it from your typical coupe, its size for one thing. It is 195.3 inches long with a wheel base of 115.6 inches and height of 67.6 inches. The 2021 AMG GLE 63 S has a curb weight of 5,633 pounds and rides on 22-inch wheels.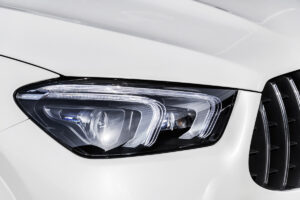 Storage capacity is 27.5 cubic feet behind the second-row seats and 63.2 with them folded. That's pretty much SUV-like, which is appropriate since the "GLE" nomenclature follows the company's protocol for its SUV fleet since "GL" replaced the "M-Class" designation.
Yes, of course, the GLE is available in SUV configuration, which is probably more common than the GLE Coupe. To me, the GLE 63 S Coupe is a hatchback.
As it moves into its second generation, the 2021 AMG GLE 63 S Coupe features a laundry list of AMG upgrades like a Speedshift 9-speed automatic transmission with paddle shifters, AMG Performance all-wheel drive, and AMG Active Ride Control.
Navigation is standard, and the 12.3-inch touchscreen display provides a nice, clear map for the driver to get a clean picture at a glance.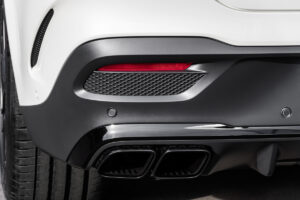 Infotainment functions are numerous, as one might expect, and the MBUX system operates off either the touchscreen or touchpad on the console, You scroll though the display much like on a laptop computer, which would seem to be instinctive for today's computer-savvy user but can be a bit distractive when trying to keep your eyes on the road
ECO, Comfort, Sport, and Sport+ driving modes offer you choices to adjust to your driving mood at the time.
Among other standard features are Apple Carplay and Android Auto, heated and ventilated front seats, dual-zone climate control, and safety features like blind-spot warning, lane-keeping assist, and a clear surround-view camera system.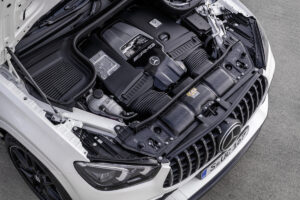 Those features and more are included in the $117,050 starting MSRP (including destination and delivery). Options and packages that include AMG cross-spoke alloy wheels, a driver's assistance package (active steering assist, active brake assist, and much more), and a comfort package (massage front seats) ran the final total of my test vehicle to $128,500.
What I liked about the 2021 Mercedes AMG GLE 63 S Coupe: As with any AMG model, performance is the big thing. By "performance," I mean get-up-and-go, certainly not fuel efficiency. The ride is comfortable and quiet, and the interior is very high class.
What I didn't like about the 2021 Mercedes AMG GLE 63 S Coupe: The Germans apparently are sold on the touchscreen/touchpad operation for the infotainment system, but it is very distracting to operate. Brushing the touchpad on the console can accidentally change a setting such as a radio station. You lose headroom in the back because of the slanted roofline.
Would I buy the 23021 Mercedes AMG GLE 63 S Coupe? It's a really great performer and has a high class interior, but I just don't like the way it looks. To me, styling-wise, it works much better as an SUV. If you are OK with the appearance, however have at it!
*Photos furnished by Mercedes-Benz