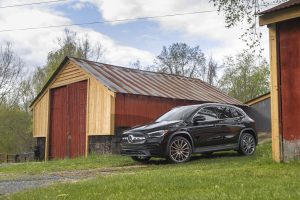 Mercedes-Benz GLA250 4Matic (2021)
The completely redesigned, 2021 Mercedes-Benz GLA250 is now all grown up. The overall design, ride comfort and the seating height all create a feel that is exactly what a proper small SUV should be.
The 1st generation was more of a hatch back crossover, sure, it was fun to drive, but it really wasn't an SUV. The new version feels bigger, roomier and more luxurious, yet its size feels just right. It's easy to park in tight spaces, a snap to do a U turn and never a problem fitting into even a small garage. The front facia is all modern Mercedes-Benz look, offering an integrated aerodynamic bumper and elegant headlights.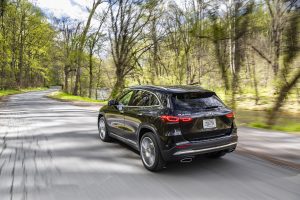 The side profile shares similar corporate shape as with the larger models. The rear of the GLA features an easy to manage, electric hatch, flanked by modern-looking exhaust tips on edges of the bumper corners.
Once inside, you immediately feel as if you are in a bigger, plusher SUV. Instantly you start noticing the similar layout that has become the current interior architecture of Mercedes-Benz. The MBUX infotainment, offering Apple-Car-Play, at first can be a bit confusing, yet after spending a few minutes exploring the different menu's you get used to it and it becomes intuitive.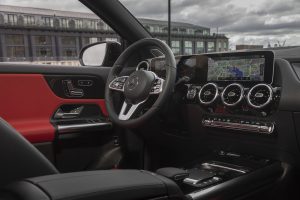 Seats look great and are quite comfortable. I was surprised at the amount of seat space in the second row, even with the seat placed in position for my 6' stature I was able to sit behind the driver's seat and still have comfortable leg and head room without a need to move it. Bravo Mercedes-Benz! The fit and finish is first-class throughout, which is a nice touch for any entry-level vehicle. Cargo area is generous and well appointed, rear seats do fold forward adding additional cargo space.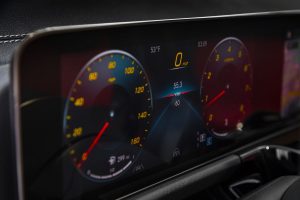 As the new GLA is a proper small SUV, you do give up some of the fun and engaging driving dynamics the previous hatchback offered but in turn, you get a more luxurious feel both in comfort and ride.  Acceleration won't set the street on fire, but it's certainly adequate for day-to-day driving needs. Steering is typical of an electric steering setup, which means not a lot of feedback. Brakes are strong and easy to modulate at crawling speed and your passengers will thank you for the ease of being smooth in all types of traffic. The GLA250 has an eight-speed dual clutch transmission which does have some unique sounds and feel to it.
Off the line, the transmission upshifts quickly to maximize fuel efficiency. I found myself driving more times in the manual setting and shifting with the paddle shifters as I felt more engaged with the driving, it's all a matter of preference. One big difference as compared to a typical automatic, is when slowing down to a full stop. You notice the transmission doing its downshifting which, if you pay attention, you will hear and feel it do its thing.  It's not overly intrusive but you do notice it. Highway cruising is what the GLA250 does best. Its serenely quiet, smooth and incredibly comfortable.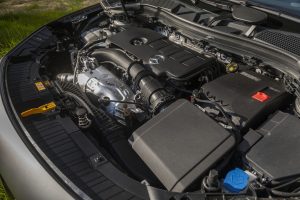 Once you master the infotainment it's all basically controlled by your finger-tips and the miles accumulate effortlessly. The Mercedes-Benz GLA is a proper small SUV that is worth putting on your short list of candidates.
Comparables Include: BMW X1, Audi Q3, Cadillac XT4, Lexus NX
The Essentials:
MSRP: $38,230.00                                                                             MSRP (As tested): $54,515.00
Fuel Economy (Observed): 25.3 MPG
Engine: Inline-Four, 2-liter turbo, 221 HP and 258 lb-Ft of Torque
Popular Options Include:
20" AMG Wheels $750.00
Panorama Sunroof: $1,500.00
Suspension with Adj. damping: $990.00
Burmeister Premium Sound: $850.00
Driver's Assistance Pkg: $1,700.00
AMG Line: $2,240.00
Premium Pkg: $1,750.00
Visit: www.mbusa.com
*Photos furnished by Mercedes-Benz