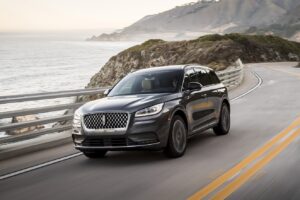 If you are in the market for a compact luxury crossover SUV and are in a "buy American" mood, you're going to find your choices somewhat limited. Imports from Germany and Japan pretty much have taken over the segment.
Fortunately, however, one of the best — a couple of sources even rate it No. 1 — choices among the compact luxury crossover SUVs is as American as complaining about election results.
It also carries a well-known American name.
I am referring here, of course, to the 2021 Lincoln Corsair.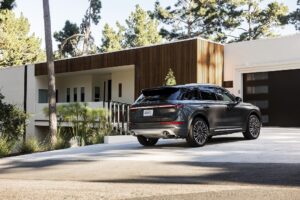 You may not be as familiar with the Corsair as the company's flagship SUV, the Navigator, or perhaps the Nautilus, which debuted a few years before the Corsair, which replaced Lincoln's MKC crossover for the 2020 model year.
The name "Corsair" has been used before for several other Ford Company products, including a version of the ill-fated Edsel in the late 1950s. World War II history buffs also will recognize it as the name for a Navy-Marine Corps fighter plane known for its reverse-gull wings and glamorized in the '70s TV show Black Sheep Squadron starring Robert Conrad as squad leader Pappy Boyington.
I'm going to go out on a limb here and guess that Lincoln execs had pirates in mind when they picked the name Corsair, but I could be wrong. I'm just thankful they have gotten away from the alphabet soup nomenclature when it comes to labeling their products.
The 2020 Corsair made its debut in the fall of 2019 and does have the same Ford Escape platform, but the Corsair has much more in common with its upscale cousin Aviator when it comes to luxury and comfort.
The Corsair beats out its MKC predecessor when it comes to those two qualities as well. Designers did much more than just ripping off the MKC nameplate and retagging as Corsair.
The Corsair comes in three versions with a new Grand Touring plug-in hybrid joining the portfolio for 2021. This review is based on the 2021 Lincoln Corsair Reserve trim that gets such niceties aa panoramic sunroof and real leather seats instead of the faux leather on the base Corsair.
The base engine for the Corvair is a 2.0-liter turbocharged 4-cylinder rated at 250 horsepower and 280 pound-feet of torque, but a 2.3-liter 4-banger is available in Reserve models. It is gives a little extra horsepower (295) and torque (310 pound-feet) at a cost of very little in fuel consumption.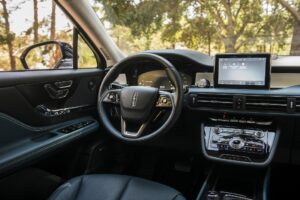 EPA ratings for the 2.0L are 22 miles-per-gallon city, 29 mpg highway with standard front-wheel drive and 21/29 with available all-wheel drive. The 2.3L that comes with AWD is rated at 21/28.
The engines are paired with an 8-speed automatic transmission and several drive modes are available. Lincoln has its own set of unique names for the modes with Excite for more lively performance instead of the customary Sport term and Conserve in place of Eco for more frugal driving. Other modes are Normal, Slippery (slick or icy road surfaces), and Deep Conditions (snow, mud, or sand).
This review is based on the AWD Reserve trim with the 2.3L engine.
Standard equipment covered by the starting MSRP of $45,090 includes security approach lamps (activated as you are near the vehicle with the key fob), LED fog lamps and taillights, a hands-free liftgate, dual exhaust with chrome tips, leather-wrapped steering wheel, dual-zone climate control,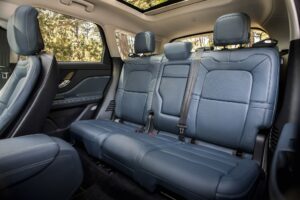 power tilt and telescoping steering column, 10-way power adjustable heated and ventilated front seats with settings for massage functions, an 8-inch touchscreen for infotainment functions (some competitors have larger screens but the 8-inch seems adequate), blind-spot detection, a reverse parking aid, and keyless entry with push-button start.
An Equipment Group 201A Package added several features, among them Lincoln's Co-Pilot Assist System that includes adaptive cruise control, evasive steer assist, reverse brake assist, and active Park Assist. That and other options ran the final total to $57,680 including the $995 destination and delivery fee.
Considering the base Corsair starts at under $40,000, you do pay a premium for the Reserve model. You don't have to use all the options that came with my test vehicle, but the Lincoln Co-Pilot system does add some very worthwhile features.
What I liked about the 2021 Lincoln Corsair AWD Reserve: It is one of the best-looking SUVs around. The interior is spacious and comfortable and the ride is smooth and quiet. Infotainment features are plentiful and very user-friendly. The 2.3-liter turbocharged engine delivers a pretty good punch, especially in "Excite" mode. Second-row seats have plenty of legroom (38.6 inches) and rear stowage is spacious (27.6 cubic feet behind the second row, 57.6 with those seats folded.
What I didn't like about the 2021 Lincoln Corsair AWD Reserve: The button to activate the voice command system is on the steering wheel right above where your left thumb is placed when your hands are in the recommended 3 o'clock/9 o'clock positions. It can be easily pressed by accident. It also might be nice if the car would stay in the same drive mode you had selected previously when you restart it instead of reverting back to Normal.
Would I buy the 2021 Lincoln Corsair AWD Reserve? Definitely, yes. Generous space for people and their stuff in a great-looking package makes the Lincoln Corsair a winner.
*Photos furnished by Lincoln