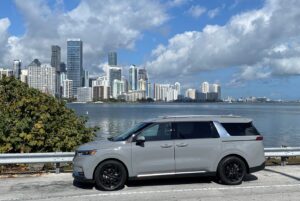 Kia Carnival SX (2022)
For some unexplained reason, mini vans aren't cool, and they haven't been for a number of years. Most families today feel that the ruggedness and taller stance of an SUV vehicle instead will give them an air of adventure and excitement that mini vans just don't convey. I believe this is going to change, if what I drove recently is any indication. Kia has recently introduced their all-new Carnival and it fits perfectly in both worlds. It has the outdoorsy, adventure look of an SUV plus all the great features and benefits of a van.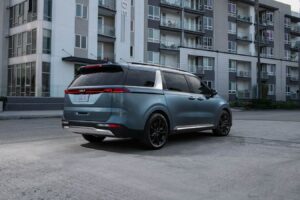 The Kia Carnival has the upright and familiar look of an SUV, together with the convenience and additional space that a van offers, yet with an elegant and stylish design that will have a lot of people saying…This is a minivan?
There is a modern front fascia with sleek and elegant headlight design. Continuing rearward, there is a long hood, mimicking the front of most SUV's quite convincingly. The side profile shows off a brilliant design trick that was done flawlessly by the Kia design team.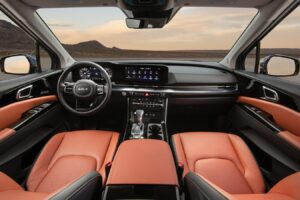 Just behind the side sliding doors there is a thick and stylized pillar accent that makes the side profile look like a long SUV. Well-done Kia! At the rear of the Carnival, there is a full width red accented stop light housing that makes the back look premium and modern. We totally love these creative design touches!
Once inside, you instantly notice the elegant and supple seats. Our press test car came with a cinnamon color interior that Kia calls Tuscan Umber and WOW, it's striking. The driver and passenger seats are superbly comfortable, and I can attest to this, as my family and I drove from Miami to northern Tampa during the Christmas holidays in the Carnival and it was a pleasant surprise. The dash offers a large, 12.3" center infotainment touch screen as well as a traditionally placed gear selector and cup holders in the center dash, sure, this set up takes up more center dash real estate, but it just feels more premium. Steering wheel is thick and well appointed, with all the expected accoutrements.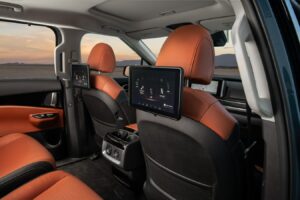 There are plenty of storage areas, USB outlets as well as rear infotainment screens for the second row of passengers. Our test Carnival came with three seats and the center seat back can be folded forward to create a surface for placing games or phones. The third row is easily accessible from either side and offers a comfortable place to sit. This can also be stowed. Oh and the second row seats can also be removed if you need cargo room for large items. Trunk area is large, offering a deep well that is nice for tall items. Rear hatch is electric activated by either the remote, left dash or door latch push button operation.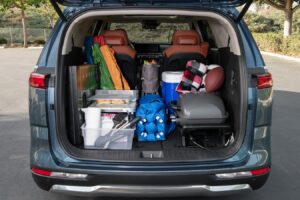 Driving the Carnival was a nice surprise. It's quiet, comfortable and very easy to drive smoothly. Brake and throttle pedals are easy to modulate and make the car feel as its floating along the highway. The engine is a 3.5 liter V6 that has good power and acceleration, there is rarely a need to call on its full power capability, thus keeping the cabin quiet and serene. Steering feedback is good and easy to maintain a straight line even with some crosswind. There are all the typical safety nannies, such as forward collision, blind-spot, rear traffic avoidance as well as lane keeping assist. One of the many items we liked was the excellent 25 MPG fuel economy the Carnival delivered over the 500+ miles we drove.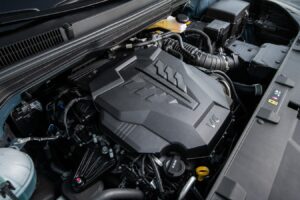 This is clearly a big advantage as compared to the mid to high teens MPG's that the typical SUV gets. Bravo, Kia.
So yes, this all-new minivan is cool, featuring a beautiful design, comfort in all three rows and all the safety and technology items a family vehicle should have. With the Carnival, you are having your cake and eating it too.
The Essentials:
MSRP: $41,100.00                                                            MSRP (As Tested): $42,770.00
Fuel Economy (Observed): 25.2 MPG
Engine: V6, 3.5 liter, 290 HP, 263 Lb/Ft torque
Popular Options: Ceramic Silver Paint $495.00
Please Visit: www.kia.com
* Photos furnished by Kia