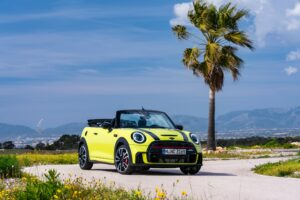 Just as the word "dated" began to appear in reviews of the iconic Mini in recent years, the 2022 Mini Cooper Convertible arrives refreshed and updated but still with the sassy attitude that has been an integral part of its DNA for just over six decades.
While still retaining its distinctive overall outer appearance, the 2022 Mini gets new bumpers front and rear, a revised grille and new wheel designs, and three new colors — Island Blue, Rooftop Grey and Zesty Yellow.
The traditional circular display for infotainment functions still dominates the interior, but several upgrades are given to the seats along with other tweaks.
The convertible is offered in three trims starting with the base S and followed by the more performance-tuned Cooper S. The top-of-the-line John Cooper Works trim that served as my test model tops off the portfolio.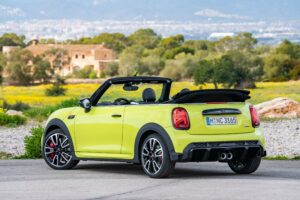 The John Cooper Works and Cooper S both come with a 2.0-liter inline 6-cylinder engine though the John Cooper Works is tuned for a significant boost to 228 horsepower and 235 pound-feet of torque over the 189/206, respectively, for the Cooper S. The base Cooper trim comes with a 1.5-liter 3- cylinder rated at 134/162, respectively.
The John Cooper Works model does not come with the manual transmission that is available on the other trims, but gets an 8-speed Sport Automatic as standard.
That power train scoots it from a zero-to-60 mph in 6.3 seconds, a half-second quicker than the Cooper S, according to the company clockers. Fuel economy for the setup in the John Cooper Works is reported at 24 miles-per-gallon city, 33 highway, and 28 combined using premium fuel.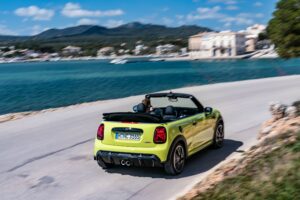 As might be expected (demanded?) of a vehicle in the $40,000 range (more on that later) the 2022 Mini John Cooper Works Convertible comes with a nice collection of tech and safety features.
Among standard comfort and safety features are Active Driving Assist with Forward Collision, Pedestrian Detection and Lane-Keeping Assist, an active rollover protection system, automatic modes for headlights, rain-sensing windshield wipers, an 8.8-inch touchscreen to activate infotainment functions, 6-speaker audio system, Bluetooth Connectivity, rear park assist, JCW sport suspension, and a multi-function, leather-wrapped steering wheel.
Mini has always prided itself on giving buyers several options to personalize their vehicles, and the 2022 Mini John Cooper Works is no exception.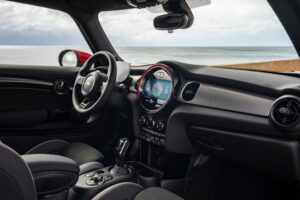 My test JCW included two packages that added $6,000 to the bottom line.
The Iconic trim package included a heat front seats, dual zone automatic climate control, keyless entry with push-button start, red exterior mirror caps, Piano Black exterior trim, auto-dimming rear-view mirror, a Harmon Kardon premium sound system, and performance summer tires.
The Touchscreen Navigation Plus package added navigation, a head-up display, a heated steering wheel, Apple CarPlay, (but not Android Auto, at least according to the spec sheet), and some other features.
Most tech stuff is out of parent company BMW's stable, but generally a bit more intuitive to operate. The circular display screen, however, does result in a lot of wasted space on the display, but it is a Mini signature design. They aren't likely to give that up any time soon.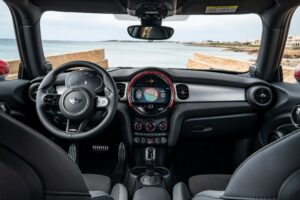 In all the bottom line for my test 2022 Mini John Cooper Works Convertible came to $45,750 including the $850 destination charge. As with some other Mini models, that's a $500 increase over most 2021 prices.
What I liked about the 2022 Mini John Cooper Works Convertible: It is fun to drive (and would be more fun with a manual transmission) and has a sophisticated interior with lots of tech features. Raising and lowering the soft top is a snap, and there even is a pause if you just want the exposure of a sunroof without a full retraction. You can also raise or lower it at low speed. You can still see the head-up display even if you are wearing polarized sunglasses. The front sport seats are supportive and comfortable, and front-seat riders have plenty of room.
What I didn't like about the 2022 Mini John Cooper Works Convertible: The view in the rear view mirror is restricted when the top is lowered because it doesn't fold flat enough. You don't see what is behind you until the following vehicle is very close, and even then you get only about the top half. Truck space is very negligible. Yes, this is a subcompact convertible so you can't expect much, but this one won't even fit a beach umbrella. Publicists claim the Mini seats four adults, but anyone who wants to ride in the back needs to compromise, like say amputate their legs.
Would I buy the 2022 Mini John Cooper Works Convertible? I am a big fan of convertibles, but the Mini wouldn't be my first choice. It's a fun car, though, and would work as a second vehicle or for daily commutes to work. If that is a bit out of what you would want to spend for a second car, the Cooper S starts at just over $7,000 less.
*Photos furnished by MINI