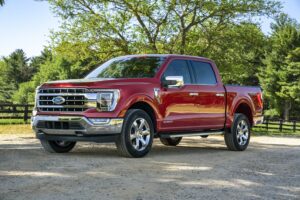 Ford F-150 4X4 SuperCrew (2021) 
The Ford F-150 is the best-selling vehicle in the US and there is a reason for that. Continuous improvement, relentless focus on details and listening to their customers. 
The design continues to evolve with every model refresh, yet it is still unmistakable Ford F-150. The interior feels well made, fresh, relevant and surprisingly modern. The performance is remarkable, regardless of the trim level or engine size you pick. Add the new, all-electric version called the Lightning (Available around mid-2022) and there could not be a more complete family of trucks offered for sale anywhere. This is Ford's cash-cow, and they know it.
The front grill features a bold, corporate look while looking modern and impressive. The side profile is all business, yet with better aerodynamics, while the rear offers an easy to operate electric tail gate with an integrated built-in step that pulls out when the hatch is lowered. Truck beds used to be simply a basic tub, with nothing other than a tail gate, boy how times have changed. Trucks today are now used for both work and play and are essentially multipurpose family vehicles. Ford has responded by being innovative with their bed design and the host of features it offers. Two examples are the multiple, handy tie-down points and a high-powered flood light located at the top of the rear cab that helps makes night work more convenient.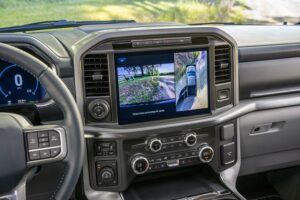 There are even power receptacles in the bed area in addition to the mentioned integrated step within the tailgate that becomes a simple yet useful way to enter the bed area of the truck. Bravo Ford! 
Inside the spacious cabin, you instantly notice the expansive room as well as the optional 12" infotainment center screen (8" is standard). Buttons, knobs and overall switch gear are large and easy to use and understand. The test F-150 we had, offered the optional and frankly, quite nifty interior work surface. This is an ingenious way to convert either of the two front seats into a true work area that is roomy enough for a notebook or a laptop. This is done by 1st pressing a button that actuates the folding of the gear selector into a pocket within the center console, then folding back to front the large arm rest, creating a large and sturdy, flat surface working area.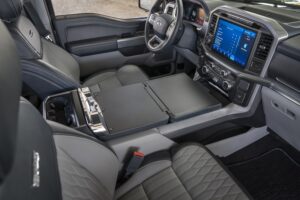 We loved it, even though I am left-handed. Ford offers several optional driver-assistance features. These become standard as you go up into the premium trim levels. One we really liked is the rear-facing camera that gives you a peek at how the trailer is doing while underway. 
During our sojourn with the F-150, I had the opportunity to go out with friends to an evening jazz concert. They had never been in an F-150 before and their comment was, "wow, I can't believe this is a truck". Rear seat is superbly comfortable for three adults, made more so, thanks to the flat floor and vent controls.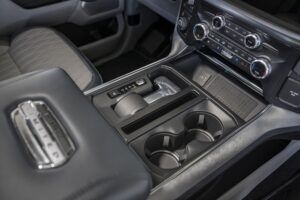 Entering the cabin is easy, thanks to the well-placed running boards as well as the convenient large handles, even for smaller people, this was not an issue.  
How does it drive? Quite civilized. Throttle and brake are easy to modulate and turning radius is tight enough to do a full U-turn in most urban streets and not have to back up. Mirrors and back up camera details and resolution are excellent, making parking easy. The F-150 will not fit into a compact parking space, but it will fit pretty much into a standard parking area with ease. The ride can get firm at times, but overall, it's comfortable and easy to live with as a daily driver. Our test F-150 came with the optional, 5.0-liter V8 engine that offers good acceleration and above average fuel economy (18 MPG Observed).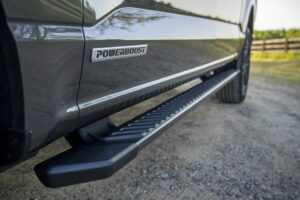 There is an Eco-Boost Turbocharged V6 or hybrid V6 available as well, both having better fuel economy as compared to the V8. Towing capacity with the 5.0-liter V8 is a respectable 13,000 Lbs., putting the F-150 within the same performance as the Ram and Chevrolet competitors.  
There are a number of packages and options that do add up quickly and send the price into the $70's, so you do need to choose from the extensive option packages selectively.  
Would I own one?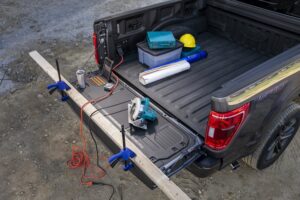 If I needed a truck, I certainly would. This is Fords best and its easy to see why after spending some time and putting some miles on this truck. 
Comparables include the Chevrolet Silverado 1500, Ram 1500, Toyota Tundra 
The essentials: 
MSRP: $51,330.00 MSRP (As Tested): $69,405.00
Fuel Economy (Observed): 17.8 MPG
Engine: V8, 5.0 liters, 400 HP
Popular Options Include: Interior Work surface ($165.00), Max Trailer Tow Package ($1,995.00), Onboard Scale with Smart Hitch ($650.00), Power Tailgate ($695.00), Continuous Controlled Damping ($695.00), 20" Chrome-Like PVD Wheels ($1,395.00), 360 Degree Camera Package ($765.00), Pro Power OnBoard 2KW ($995.00)
Please visit: www.ford.com 
*Photos furnished by Ford