Jaguar KXR-S Convertible (2012)
Wanting to play in the same league as Mercedes-Benz, BMW and Audi with their AMG, M and RS models respectively, Jaguar has introduced the 2012 Jaguar XKR-S. Even though the current XK design is now a mature one, Jaguar felt they had one last swan-song trick up their sleeve. Taking a cue from the Porsche playbook by introducing a sporty limited edition version to drum up new excitement before the model is replaced. Yes, feel free to use any superlative that comes to mind to describe the exquisite XKR-S. Mine include: Faster, more powerful and with just the right hint of exterior styling differences to make it stand out from the "mundane" R version that it easily trumps.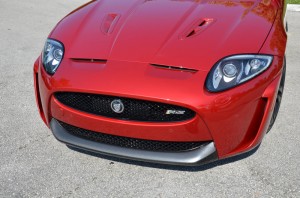 Walking around the XKR-S for the 1st time, I was greeted with several striking surprises. Staring with the shark snout air intake grille, which makes the front fascia look meaner, thanks to the carbon-fiber front spoiler and side air inlets. These not only look good, but are functional as well, channeling air for additional cooling. Looking downward, we instantly notice the optional ($1,500.00) gloss-black 20" multi-spoke alloys, which make the XKR-S look ominous. Further back, there is a un-Jaguar-like carbon fiber rear wing, that at first glance, looks a bit boy racer. However, after a few minutes, I realized this wing is a perfect accoutrement, adding to the special sporty look of the XKR-S. The rear bumper is flanked by a quartet of exhaust tips that are aggressive enough to give a loud and clear "don't mess with me" hint. Even before starting the engine!
Inside, the XKR-S offers a deliciously elegant interior, featuring leather everything! The sports seats are dual color, serving up just the right amount of firmness and support. Rear seats are more of a decoration than useful, but in case of a dire need, they are there. We tested the XKR-S convertible, thus offering better rear seating comfort with the top down, but giving up some of the trunk space. Speaking of convertible, Jaguar is still a hold-out with its classic canvas fold-down top as compared to the more, en-vogue retractable hard-top seen on many other manufacturers' drop-top coupes. Yes, the design is starting to look slightly dated and the infotainment is not as lightning fast as some newer models, but so what, the XKR-S is a beast and we love it.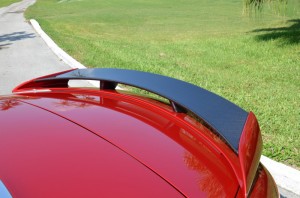 Looking around the cockpit area, one cannot help but notice, the almost identical layout of the XKR-S and its lesser powerful brethren, of course, this holds true until the engine is started. As soon as the starter button is touched, the driver and lucky passenger are rewarded with a cacophony of engine sounds that are as heavenly as a Puccini aria. Blip the throttle a few times and the XKR-S replies with a deep burbling sound that is simply, ecstasy! Accelerating briskly, the XKR-S displays effortless performance capability; it is amazing, all the driver needs to do, is THINK fast and it IS fast. Cornering is agile and direct, with little body roll, even during a fast sweeper. Using the brakes aggressively offers tantalizing hints at what this sports car can do in a track setting. One of the nicest features we noted from the XKR-S, is the ease of driving this car at the upper and lower ends of its range. Some very powerful cars become one sided and thus turn into a chore. Not the XKR-S.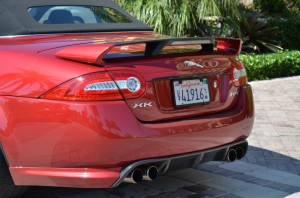 In the jaded South Florida car universe, most people don't notice anything that's not overdone or over the top. The Jaguar XKR-S is absolutely neither of these. We did find, that people did notice this car, especially those that follow European exotica. I got plenty of thumbs up and approving gawks from people that don't quite know what it is, but they do know it is special. After an all too brief of a sojourn, it was time to relinquish the elegant key for of this amazing Jaguar. I was sad to see it go, yet glad to have had the opportunity of spending a week with one cool cat!
The Essentials:
MSRP: $138,000.00 MSRP (as tested): $142,750.00
Fuel Economy (Observed): 16.9 MPG
Engine: Supercharged 5.0 liter V8, 550 HP with 6 speed automatic transmission
Popular Options:
Heated windshield ($375.00)
Carbon Fiber Engine Cover: ($2,000.00)
20" Vulcan Gloss-Black Wheels ($1,500.00)
Visit: www.jaguarusa.com