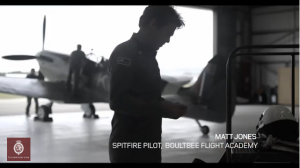 Range Rover Sport vs Spitfire | Car vs Plane at Goodwood
By: Jake Lingeman on 7/08/2013
The Goodwood Festival of Speed returns this weekend at the Goodwood House in England. Land Rover got the party started early with an exhibition race between its fastest model, the Range Rover Sport, and the Vickers Supermarine Spitfire propeller plane. The challenge was organized by Goodwood's fortyonesix.com website.
The Range Rover did a straight drag run down and back on the grassy runway while the Spitfire started at the same spot, took off at the end of the runway, did an upside-down loop and came back.
The Range Rover makes its 510 hp with a 5.0-liter supercharged V8, while the Spitfire spins its prop with a 1,750-hp Merlin V12. The fighter plane has a maximum airspeed of 400 mph, but it needs only 80 mph to take off.
Mike Cross, Jaguar Land Rover's chief vehicle integrity engineer, was behind the wheel of the Range Rover Sport while Matt Jones, Boultbee Flight Academy pilot, controlled the Spitfire.
"It's always difficult to find traction from a standing start on grass," Cross said. "But the Range Rover Sport made a great launch off the line. I was surprised by how bumpy the course was as I accelerated up to 130 mph and, of course, the other extreme challenge is to brake in time for the turn-around, but the car felt composed throughout the whole run."
Check out the video of the run, and come back this weekend for more Goodwood coverage.
Read more: http://www.autoweek.com/article/20130708/carnews01/130709875#ixzz2Z7KiAGPT
Follow: @AutoweekUSA on Twitter | AutoweekUSA on Facebook