BMW 330i (2019)
Sometimes there is magic between the teams of designers, engineers and even bean-counters and that leads to an excellent product. Well the mojo was working overtime in Munich when the all new for 2019 BMW 3 Series was approved for production.
I've had the privilege of owning several variations of the 3 Series, starting with the E21 then on to the E36 and finally the E46 and each had its own set of brilliant points and quirkiness. The new G20 3 Series is without a doubt, one of the best 3 Series in several generations.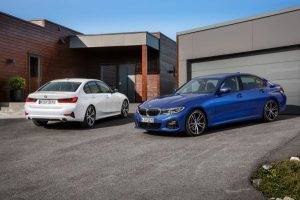 One thing I liked is finally, there is less of an urge to over-style the design. Some cars, including BMW's, sometimes are overly done and frankly, there is no need. Just look at the simple, understated elegance of the classic E46 M3 and you realize not only how perfect the design is but how well it has aged. Sometimes it helps to look back to create the future.
Technology is everywhere in the 3 Series. From subtle, safety items like the inlaid accent lighting on the doors that automatically turns red when you open it. This is a simple yet brilliant idea, giving any traffic behind you a better chance to see that you are stopped and the door is open.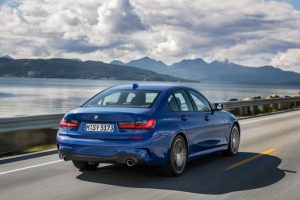 Another nice touch is the excellent and crisp presentation and graphics of the HUD, "Heads Up Display" especially when you use the Navigation function. Great examples of two things that create a safer, more practical experience for every user, which is exactly what we have all have come to expect from everything we use, from a phone to a car.
Seating comfort and position are easy to adjust even if you are the most finicky driver. Controls and switchgear are first class and as usual, offering a nice tactile feel with every click of a button. Steering wheel has a lot of the key controls that you would need normally, so once you have that set up, you rarely would have to use any of the center dash knobs or buttons.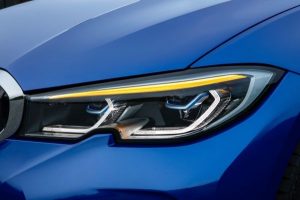 Taken from the 8 Series, the dash design and presentation is completely new, making it look fresh and modern yet offering all the needed information in an easy to read and understand format. Rear seat is comfortable for two, tight for three. Trunk space is surprisingly roomy with a large opening and well appointed.
Driving the 330i is a delight, even the newest version of electric steering has been improved although it still has some vague feel spots, specially at typical highway speeds. Both the brake and the accelerator pedals feel perfectly balanced in the hardest test of all, the all too frequent stop-and-go traffic. The 330i is once again,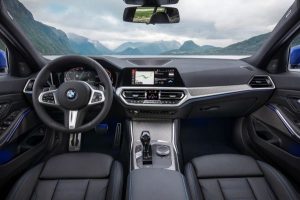 all BMW and we are glad to see it return to the sporty roots that the 3 Series has been known for. Sadly, there is no manual transmission offered, but not all is lost. The superb ZF sourced 8-speed automatic is lightning fast and crisp regardless of how hard you treat it. Suspension has been finely looked at and once again, it is now in that perfect BMW zone. Not too harsh and not too soft. Acceleration is crisp, linear and surprisingly fast although the piped in engine sound can be a bit… fake.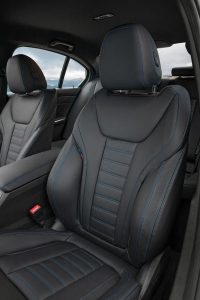 Cornering and braking are lively and direct, more so with the optional but pricy M package. All of these make a great combination and are a delight, regardless of the level of enthusiasm you have as a driver.
One of the biggest changes was the engine. The 330i now has a four-cylinder engine that is a turbocharged 2.0 liter in-line four cylinder with 255 HP @ 6500 RPM's and with 295 Lb/Ft @ 1550 RPM's torque. It is surprisingly smooth, capable and compliant, even if you want to push it hard.
This segment is crowded with comparable cars, as all the luxury brands from Europe, Korean and Japan compete, yet BMW seems to be the perennial favorite with the all-new for 2019 330i. Welcome back to the top BMW, we've missed you.
The Essentials:
MSRP: $40,250.00                                             MSRP (As tested): $59,920.00
Fuel Economy (Observed): 27.1 MPG in mixed driving
Engine: 2.0 liter, turbocharged I-4 with 255 HP and an 8-speed automatic transmission
Popular Options and Packages:
Cognac leather: $1,450.00
Driver's Assistance Pro Pkg: $1,700.00
M Sport Pkg: $5,000.00
Premium Pkg: $2,800.00
Executive Pkg: $2,100.00
Track Handling Pkg: $2,450.00
Adaptive M Suspension: $700.00
Wireless Charging: $500.00
Harman Kardon surround sound: $875.00
Visit: www.bmwusa.com
*Photos furnished by BMW